Special Features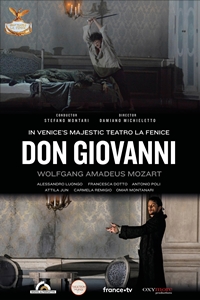 Teatro La Fenice: Don Giovanni
(2019)
Don Giovanni is an opera in two acts with music by Wolfgang Amadeus Mozart and Italian libretto by Lorenzo Da Ponte. It is based on the legends of Don Juan, a fictional libertine and seducer. It was premiered by the Prague Italian opera at the Teatro di Praga on 29 October 1787. Da Ponte's libretto was billed, like many of its time, as dramma giocoso, a term that denotes a mixing of serious and comic action. Mozart entered the work into his catalogue as an opera buffa. Although sometimes classified as comic, it blends comedy, melodrama and supernatural elements. A staple of the standard operatic repertoire, Don Giovanni is currently tenth on the Operabase list of the most-performed operas worldwide. It has also proved a fruitful subject for writers and philosophers.
Rated NR
Playing at South Hadley's Tower Theaters
Zurich Opera House: Carmen (2008)
(2019)
CARMEN Georges Bizet
From Opernhaus Zürich 2008

Opera in 4 Acts. 
Run time: 2hrs42min.
Libretto by Henri Meilhac and Ludovic Halévy based on the novella by Prosper Mérimée.
Sung in French with English subtitles.
With this festival performance from the Zurich Opera, the great Vesselina Kasarova makes her long-awaited debut in one of the greatest mezzo roles in the operatic repertoire: Carmen.
From the moment she appears on stage to the close of the opera just after the heroine's death, Kasarova dominates the stage with her amazingly nuanced mezzo and her mesmerizing charisma. This is no brazen gypsy girl who turns men's heads with a toss of her black curls and a sway of the hips; this is a modern, self-confident woman who knows exactly what she wants. This Carmen doesn't need castanets to express her passion: it glows from within.
She has a partner of equal stature in Jonas Kaufmann's Don José, who, in Matthias Hartmann's production, believably undergoes a transformation from repressed mama's boy to passionate, jealousy-crazed hothead. With "the looks and nonchalance of a rock star" (New York Magazine), Kaufmann is being handled as "arguably the greatest tenor of the past 50 years" (The Guardian). The Zurich production is Kaufmann's second stage version of Don José, following his role debut in London, which was greeted with standing ovations.
CREATIVE TEAM
Conductor Franz Welser-Möst
Director Matthias Hartmann
Set designer Volker Hintermeier
Costume designer Su Bühler
Lighting designer Martin Gebhardt
Video designer Felix Breisach
Choral Director Ernst Raffelsberger
Choreographer Teresa Rotemberg
ARTISTIC TEAM
Carmen Vesselina Kasarova
Don José Jonas Kaufmann
Escamillo Michele Pertusi
Micaëla Isabel Rey
Frasquita Sen Guo
Mercédès Judith Schmid
Zuniga Morgan Moody
Moralès Krešimir Stražanac
Smuggler Javier Camarena
Smuggler Gabriel Bermúdez
Rated NR
Playing at South Hadley's Tower Theaters